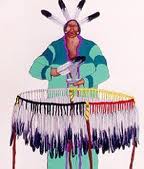 An excellent paper by Arthur Evans, Roland Lamb and Bill White, highlighted in a blog by the latter, which I originally posted in December 2013.
'In the Red Road to Wellbriety, the individual, family and community are not separate; they are one.  To injure one is to injure all; to heal one is to heal all.' The Red Road to Wellbriety, 2002
As a field, we have long known that the effects of personal addiction ripple through families, social networks and organizations.  But might whole communities and whole cultures be so wounded by prolonged alcohol and other drug problems that they are themselves in need of a sustained recovery process?  This suggestion is the premise of a new paper co-authored by Dr. Arthur Evans, Jr., Roland Lamb and myself just published in Alcoholism Treatment Quarterly.