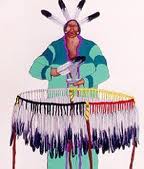 Another excellent paper by Arthur Evans, Roland Lamb and Bill White, highlighted in the latter's recent blog.
"In the Red Road to Wellbriety, the individual, family and community are not separate; they are one.  To injure one is to injure all; to heal one is to heal all." The Red Road to Wellbriety, 2002
 
As a field, we have long known that the effects of personal addiction ripple through families, social networks and organizations.  But might whole communities and whole cultures be so wounded by prolonged alcohol and other drug problems that they are themselves in need of a sustained recovery process?  This suggestion is the premise of a new paper co-authored by Dr. Arthur Evans, Jr., Roland Lamb and myself just published in Alcoholism Treatment Quarterly.
We define community recovery as a voluntary process through which a community uses the assertive resolution of alcohol- and other drug-related (AOD) problems as a vehicle for collective healing, community renewal, and enhanced intergenerational resilience. 
Community recovery is: 1) voluntary in the sense that it involves a breakthrough in community consciousness and sustained community commitment, 2) a process in that it must unfold and be sustained over a prolonged period of time, and 3) assertive in that the diminishment of AOD and related problems occurs as a result of concerted, collective and sustained action. 
Key ideas proposed in the new paper include the following:
The prognosis for community recovery is influenced by the ratio between problem prevalence, severity, and complexity and the level of community recovery capital (the scope and quality of resources that can be mobilized to initiate and sustain a community recovery and revitalization process).
There are multiple pathways and styles of community recovery and renewal, with most including emergence of a new recovery-based community identity (story).
Sustainable community recovery engages multiple community institutions in a process whose results can be measured in reductions of community pathology, but are best measured in long-term increases in community recovery capital.
Community recovery elevates the prognosis for personal/family recovery by elevating external recovery capital; creating the physical, psychological and cultural space where recovery can flourish; and increasing the density of recovery carriers (persons who convey infectious hope and guidance for recovery initiation/maintenance) within the community.
The paper draws inspiration from the community transformations within the Shuswap tribal community in Alkali Lake, British Columbia and those tribal communities touched by the Native American Wellbriety Movement.
The paper discusses the concept of community recovery and how that concept is being operationalized within the City of Philadelphia's recovery-focused behavioral health care transformation process. I hope it will expand your thinking about who we as addiction professionals and recovery advocates could and should be serving.  An abridged version of the paper can be read by clicking here.'