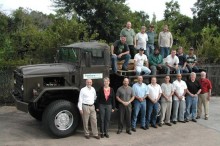 My apologies for being offline twice twice in the past couple of weeks but we were hacked and I didn't realise our website was closed down by our server company as I was asleep! Hassles of a life online!
'So you've hit rock bottom and now you're crawling your way back out. But unfortunately the hard work that goes into getting sober won't pay the bills. Getting hired as a recovering addict isn't always easy: Many of us have spotty employment histories, and the stigma attached to past criminal or mental health records may deter potential employers.
Addicts in early recovery often find themselves tending bar, waiting tables or working the cappuccino machine at a local coffee shop. But if mixing boozy beverages or making little hearts in foamed milk isn't up your alley, there are still plenty of other employment options out there.
Growing numbers of non-profit organizations – such as the Doe Fund and the Salvation Army – are going out of their way to find employment for addicts in recovery. And there are places where your history with substances could actually give your CV the boost it needs to get you in the door.