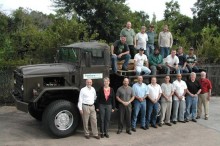 My apologies for being offline twice twice in the past couple of weeks but we were hacked and I didn't realise our website was closed down by our server company as I was asleep! Hassles of a life online!
'So you've hit rock bottom and now you're crawling your way back out. But unfortunately the hard work that goes into getting sober won't pay the bills. Getting hired as a recovering addict isn't always easy: Many of us have spotty employment histories, and the stigma attached to past criminal or mental health records may deter potential employers.
Addicts in early recovery often find themselves tending bar, waiting tables or working the cappuccino machine at a local coffee shop. But if mixing boozy beverages or making little hearts in foamed milk isn't up your alley, there are still plenty of other employment options out there.
Growing numbers of non-profit organizations – such as the Doe Fund and the Salvation Army – are going out of their way to find employment for addicts in recovery. And there are places where your history with substances could actually give your CV the boost it needs to get you in the door.
Looking for inspiration? Here are three examples of companies, across a range of industries, that make a point of hiring people in recovery. And not a cappuccino in sight.
1. Venturetech Drilling Technologies
Patent engineer, founder and CEO Larry Keast started Venturetech in his garage in 1980 to design and manufacture new drilling technologies for the oil business. The Houston-based company has grown into a well-respected international business that manufactures and services power swivels and top drives, which are used to drill oil and gas wells around the world. The company has grown fast and is further expected to double in size – from 50 employees to about 100 – in the next few years.
A former Venturetech general manager who was in recovery from addiction first gave Keast the idea to recruit specifically within this population. And it's paid off: He says that employees in recovery have boosted team spirit. "There was a time I didn't like walking through my own shop because of morale," Keast tells me, "But the grateful attitude of those in need really changed the atmosphere."
Keast also founded the nonprofit America in Recovery, a project inspired by his experience working with recovering addicts. Venturetech's relationship with America in Recovery has also been good for business, since people want to support the company's mission. "We have a number of customers and vendors that donate to our non-profit and wholeheartedly agree with our hiring policies," says Keast.
Hiring people with addiction is not without risk, however. Keast says one beloved former employee, an executive assistant who would perform magic tricks at company luncheons, had to leave the company after six years after he relapsed. But many other employees move on for positive reasons – like more lucrative career options – and Venturetech is happy to be a launchpad.
"If they do good work here and this is a stepping stone for them to find something better, then I'm glad to have been a part of that transition," Keast says. He believes the turnover rate at Venturetech is no higher than that of similar companies, and that people coming and going is part of any business.
Overall, the benefits of employing people in recovery seem to outweigh the risks. Keast describes three of "our recovery folks" standing up at a company-wide Thanksgiving luncheon to share their stories. "It was amazing to see them all talking to each other afterward and hearing them tell each other what they had been through, and how none of them would have ever known about the other," he says.
Frederick Richert, 41, works on the logistics and supply chain at Venturetech – a job which he says helped him break out of a long battle with addiction. He says he got into drugs at a young age and went through many cycles of making money, getting on his feet and then losing it all again.
But the job provided the stability he needed to get – and stay – on his feet. "Working here has allowed me to build a track record of success," he says. He feels a sense of camaraderie with his coworkers: "The environment is one where people know what to expect from each other. Relationships are based on mutual respect and knowledge that everyone knows where each other comes from."
Richert, like Keast, acknowledges that losing staff members to relapse can create some problems. "Not everyone wants to change and turnover can become an issue," he says, "However, as time progresses, those individuals tend to weed themselves out." Richert says he's looking forward to building up his resume and reputation, and is keeping an eye open for opportunities for growth later on.
2. Envirosafe Stripping Inc.
Envirosafe is a company in Carnegie, Pennsylvania, that prepares and paints steel. The 50-person outfit has worked on some major New York City landmarks – including the Jerome L. Greene Space, the MetLife Stadium and parts of the rebuilt Van Wyck Expressway – all with the help of people in recovery, whom the company goes out of its way to employ.
One of these is Josh Inklovich, a recovering addict in his thirties. He is now Vice President of business development at Envirosafe after working his way up from the bottom. He recently founded his own nonprofit arm, Focus Industrial Training, which provides job training to recovering addicts at no cost.
The owner, George Vorel, has personal reasons for his hiring policy: His daughter Alyssa is a recovering heroin addict. Vorel also founded a faith-based recovery group in Butler, Pennsylvania, where he lives, and became involved in prison ministry. "Through the journey of living with that while [his daughter] was struggling to get clean, he felt called to service to that segment of the population," Inklovich tells us.
Amazingly, Vorel even hired his daughter's former heroin dealer, who had first introduced her to the drug. He "actually mentored the young man and brought him to and from work each day," says Inklovich. The company's story recently attracted local media attention.
Envirosafe sees a fair amount of turnover due to the nature of addiction. Inlovich says it's "disheartening" when an employee relapses. "Sometimes we give them a second chance and welcome them back, and sometimes we don't," he tells me. "Depends on the person. Sometimes that person hasn't gotten to where they need to be at to come back up."
But there are success stories too. One employee – a war vet who has been at Envirosafe since last summer – is a former truck driver who was addicted to crystal meth for 13 years. During that period, any time a drug test was required, he would quit his job and move on. He ended up homeless and finally got treatment in an organization for homeless vets. He now shows up to work every day and recently bought a car.
3. Creative Matters
This LA-based branding and design agency was founded in 2009 as a way to bring in more revenue for the nonprofit Jewish treatment center Beit T'Shuvah.
There are 10 full-time staff members and a handful of interns; all the interns are alumni of the treatment program, and many of them are ultimately hired as full-time staff. About 90% of the company's staff are in recovery, and the rest all have some personal experience with or understanding of addiction. "They get it," as General manager Eliana Katz puts it.
The company's practice of hiring recovering addicts began at its very beginnings. The original designer, a man named John Sullivan, did four years in prison on drug charges, and before that had spent nearly two decades battling addiction and living on and off the streets. The company is committed to the belief that creative pursuits are vital to the addiction recovery process.
One unique element of employment at Creative Matters is a commitment to transparency. "When you sign on to work with us, you are essentially signing on to say, 'I am an addict, and now I work at a creative agency,'" says Katz. "Our message is at the heart of not just our social mission but our creativity. Individuals who would not be comfortable disclosing at the staff level would not be a fit."
The company makes sure to let their clients know that there are both risks and benefits to their hiring process, and they do experience some turnover due to relapse. But, says Katz, "there is a never-ending supply of hungry, creative, and highly talented individuals. As long as our clients are assured that they will be in good hands no matter what – and they will! – they have learned to congratulate the success stories along with us, and anticipate incoming creativity, rather than lament the loss of an incredible account manager or graphic designer."
Most clients aren't concerned with having recovering addicts do their design work – as long as it's quality. More often, they are enthusiastic and excited to be part of the company's mission.
"Because we work with other nonprofits, they 'get it,' they are moved by our desire to rehabilitate lives because their ultimate goals are to do the same," says Katz, "Often times as part of their core principles, socially-minded companies seek out partnerships with other like-minded organizations." For example, they were recently hired by the LA Sheriff's Department, which chose them because of their commitment to rehabilitating former offenders.'
This article originally appeared on the website Substance.com.