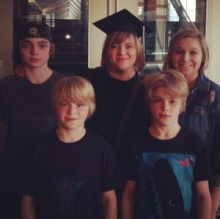 Here's a recent addition to Veronica Valli's Recovery Rocks blog.
'This is just one of those 'blow you away' recovery stories. I am in complete awe how Betsey Berry managed to put her life back together after a serious meth addiction.
Getting clean is challenging for anyone, getting clean of meth whilst having 4 children, a drug addict husband, going bankrupt and loosing your house is a whole new level of challenging. Not only is Betsey clean, she has just graduated college with a BS in Alcohol and Drug counselling. Betsey writes about her experiences on her blog Mom off Meth.
She is incredible, please read and share her inspiring story.