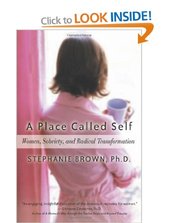 I've made reference to Stephanie Brown's brilliant book A Place Called Self: Women, Sobriety, and Radical Transformation in past blogs. I've recommended this book to several women in early recovery and they have really like it. Here, Stephanie describes how one's self (or identity) changes in a negative manner during the process of addiction. She focuses on lying to oneself.
'… addiction develops over time, and it involves changes in the way you behave but also changes in the way you think: the way you think about drinking, the way you think about yourself, and the way you think about life.
You start to build your sense of self on a a false belief, the belief that you can control your drinking or other addictive behavior. This isn't an easy thing to do. Since you really don't have control, you're going to have to lie to yourself in order to believe you are not addicted. You have to tell yourself more and more elaborate lies over time, as evidence to the contrary becomes more and more compelling, and you have to rationalize or explain it away. All your energy goes into pretending….