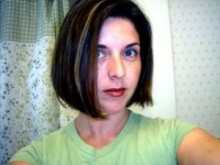 Here's the latest edition of Veronica Valli's excellent 'Recovery Rocks' series, this edition involving Tara Weng.
Veronica says, 'The wonderful thing about getting sober is that it's not just the life of the alcoholic that improves, but everyone around them too. Tara Weng describes how the relationship with her son has improved since she has got sober, because of her sobriety she now gets to see her kids transform into amazing human beings. You just can't put a price on that.
Apart from her most important job of being a mother, Tara is a freelance writer…
I know so many people struggle with alcoholism in secret, afraid they are going to be judged, this fear keeps them isolated and alone. This is an illness that effects so many people, particularly women who are hiding at home drinking just like Tara did.
Except Tara turned it around, she got sober, she changed her life, she is healing her relationships. And if she can do it, so can you.
1. Describe your 'rock bottom.'
I had so many black outs at the end of my drinking. I was hiding bottles all over the house and as soon as my kids left for school I was going to the liquor store. I would drink as much as I could in the morning then make myself throw up… thinking it would sober me up by the time they got home in the afternoon.
Alcohol completely dictated my life. It was taking more and more just for me to get drunk and I was lying to everyone about it. I had already had an alcoholic seizure about two years before I stopped – but even that wasn't enough to scare me into sobriety. I knew everyone around me was concerned and I was resentful.
2. What was your 'moment of truth' or 'clarity' that prompted you to get sober/clean?'
I just woke up one morning and wanted to punch through the bathroom mirror. I thought: if this is it – if this is what your life is about, you need to seriously do some soul-searching. I couldn't stand to look in any mirror because the reflection was too damn painful. There were so many 'bottoms' before that but I wasn't ready.
3. What were your first 30 days of recovery like?
Sweaty, anxious, nerve-wracking. I think I mastered the "white knuckling it" bit. I was open and honest with my family this time though so they were supportive. The self-loathing was at an all-time high. Right before the 30 days was up though I decided to get away from 'me' and start focusing on what I could do to help others whether it was going to a food pantry, donating clothes, anything… it helped a lot.
4. What are the best things that have happened to you since you got clean/sober?
I've learned to open my mind & heart again. I have a renewed sense of purpose and meaning in my life. I laugh more and louder without care. My relationship with family and friends is so much deeper. My son & I have a bond now that I never thought we would have. I'm so lucky. He is one of my biggest fans & supporters. I could never have had that lying on a couch drunk.
5. If you could go back in time to you when you were drinking/using what would you tell yourself?
"Don't give it away." The 'it' for me means life. I spent so much time and energy numbing away the pain that I didn't give myself a chance to experience life – good and bad. You have to feel things in order to work through them. I'd also say… really dude? Really?
6. What have been the most useful things you have learnt about yourself since getting sober/clean?
That I'm worth fighting for. I have learned to offer myself the same compassion/empathy that I would a stranger. Giving of yourself to others is wonderful but you have to offer that same sense of selflessness to yourself. I've also learned that I'm stronger than I ever thought.
7. What are your favorite recovery slogans?
"Sometimes quickly sometimes slowly," honestly it's a process – I don't know some days if I'm going to be wracked with anxiety when I see a liquor store or a scene in a movie with booze, then other days it's like a no-brainer.
Another would be: "if you can't help a drunk, just don't hurt them." That's something that has transformed the way I think. I can't help all the wounded birds but I'm not in the business of hurting anyone either – I know my limitations and my ego. Also, not necessarily recovery-related but for me personally: "change your mind." I believe in this and try to practice it every day. It helps.
8. And lastly, why does 'recovery rock?'
Recovery gave me "me" back. I had lost that person for so long and never thought she would return. My relationships with people are so much more substantial and genuine. I am genuinely happy to wake up each morning and take a stab at another day. If I happen to catch my reflection in a mirror I usually make a funny face and just laugh."
Why not check out other 'Recovery Rocks' interviews on Veronica's website.