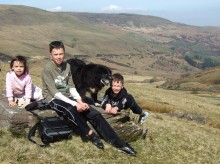 Mike Scott found this interesting article on the Drug & Alcohol Addiction Recovery magazine website. Here's just a taster about 'Fun Without Drugs':
'The most challenging thing about having fun without drugs or alcohol is learning how to get outside of yourself. The feelings associated with early sobriety are often dark and heavy, and it can be difficult to fight through these feelings and lighten up enough to enjoy yourself. In fact, some recovering alcoholics and addicts are so certain they can't get over their dark feelings that they don't even try.
But this is the wrong approach. Even if it is difficult to have fun during the early stages, one must trust the recovery program enough to know that it will eventually lead to better feelings. It's a chicken-egg situation: It's hard to have fun until you've made progress in your recovery, and your recovery will be slow if you don't learn how to get out and enjoy life on its own terms.
That's why recovering alcoholics and addicts just have to learn to go through the motions and to get moving even when it seems hard. Even when your mood is dark and cravings keep coming up, you just have to get out there and try. Nine times out of 10, when you force yourself to be active, you'll be glad you did at the end of the day.'
Why not check out the full article? Thanks for the heads-up, Mike.