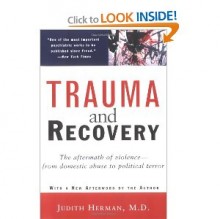 I am now blogging on my new website Sharing Culture and here is a recent posting.
'Judith Herman's book Trauma and Recovery is a classic. Judith starts the recovery part of her book, in a chapter entitled 'A Healing Relationship', with some important insights into recovery and healing.
'The core experiences of psychological trauma are disempowerment and disconnection from others. Recovery, therefore, is based upon the empowerment of the survivor and the creation of new connections.
Recovery can take place only within then context of relationships; it cannot occur in isolation. In her renewed connection with other people, the survivor re-creates the psychological facilities that were damaged or deformed by the traumatic experience. These faculties include the basic operations of trust, autonomy, initiative, competence, identity, and intimacy.